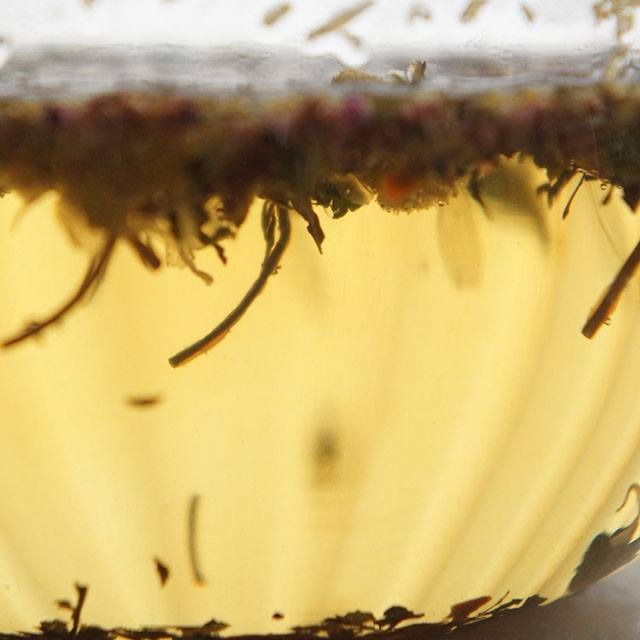 癒しのゴールド / Original Herb tea "Healing Gold"
Japan domestic shipping fees for purchases over ¥10,000 will be free.
Shipping fee is not included. More information.
心や身体をゆっくり休めていますか。
リラックスタイムを贅沢な時間にしませんか?
そんなリラックスして過ごしたい人向けのブレンド。

【使用ハーブ】
ローズヒップ/ヒース/ジャーマンカモミール/レモンバーベナ/ペパーミント/ネトル
※キク科アレルギーの方はご注意ください

【原産国】
チリ、ポーランド、他

【内容量】
約6.5 g 2~3杯分

【お湯の量】
1杯分は160cc〜180ccを目安にしております。
お好みの濃さでおたのしみください。
濃いと感じる場合には、お湯を足してください。

【蒸らし時間】
3分~5分を目安にしてください

【禁忌】
妊娠中の人は注意が必要です。

・・・・・・・・

This is the blend for customers who want to release stress and relax.

【Characteristics】
By combining German Chamomile and Peppermint,
customer can expect the synergistic effect for the feeling calms down and for giving a sense of security.It also contains effective herbs for beautiful skin, so I would also recommend for those with skin stress.

*All hand made process due to multiple herb blend due, not automation line
*Make absolutelly uniform tast because of 0.1g unit high accuracy blend
*Herb distributor companies import natural cultivation (Wildcraft herbs), organic cultivated herbs

【raw materials】
German Chamomile / Heath / Lemon Verbena / Rose Hip / Peppermint

【The Place of Origin】
Egypt, Poland, others

【Inner Capacity】
about 6.5 g(2 or 3 couples tea)

【Amount of hot water】
One cup is approximately 160cc ~ 180cc.
Please steam for 3 to 5 minutes as a guide.
Please enjoy your favorite darkness.
If you feel too dark, please add hot water.

【Steaming time】
Please allow 3 to 5 minutes as a guide.

【Contraindications】
People with asteraceae allergy avoid use.
Infants are prohibited from use.
Pregnant or lactating need attention.

【Contraindications】
Pregnant need attention.
Add to Like via app
Reviews

(5)

Shipping method / fee

Payment method